Luciferase tagged SARS-CoV-2 proteins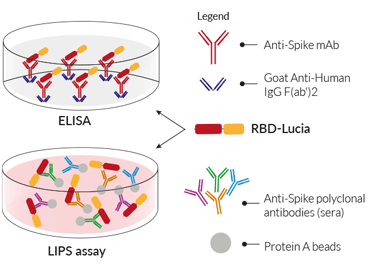 RBD-Lucia fusion protein for ELISA & LIPS
InvivoGen has developed a collection of luciferase-tagged SARS-CoV-2 proteins (Nucleocapsid and RBD region of Spike variants). They can be used to assess the binding affinity of anti-SARS-CoV-2 antibodies using either ELISA or LIPS assays.
Luciferase-based ELISA

These fusion proteins feature a C-terminal Lucia luciferase tag that provides a larger dynamic range than the commonly used HRP detection. In an ELISA, they can be used to easily compare the binding affinity of a given mAb (e.g. Anti-RBD mAbs) to different variants. ➔ See data
LIPS

Luciferase immunoprecipitation system (LIPS) is a solution-phase assay that, unlike ELISA (a solid-phase assay), allows the detection of antibodies against both linear and conformational epitopes. The main advantage is the ability to assess the antibody response in the sera of recovered COVID‑19 patients and/or vaccinees.