Mycoplasma Elimination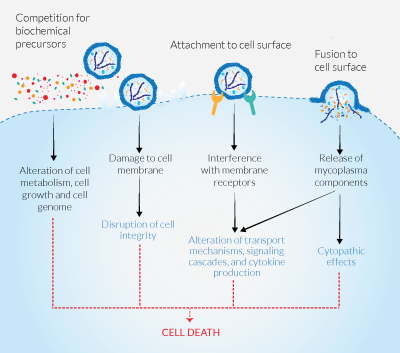 Major impacts of mycoplasma contamination on cell functions
WHEN SHOULD I TEST?

We strongly recommend testing for mycoplasma contamination:
when you receive cells from another source/lab
when you notice a change in cell growth and/or morphology
on a routine basis (e.g. every ~2-3 weeks)
InvivoGen offers MycoStrip™ or PlasmoTest™ for mycoplasma detection.
Cell culture contamination by mycoplasma is a serious concern as it can have major impacts on cell functions, and thus lead to data misinterpretation. InvivoGen offers Plasmocin® and Plasmocure™, two highly cited mycoplasma removal reagents that can save precious cell lines and data. They act fast, allowing mycoplasma eradication in only 2 weeks, with little to no cytotoxicity to mammalian cells.
 
Plasmocin®
Plasmocin® allows preventive and removal treatment of cells against all common mycoplasma strains. Plasmocin® Prophylactic can be used on a regular basis to prevent mycoplasma contaminations. Plasmocin® Treatment is intended for mycoplasma elimination within 2 weeks.
 
Plasmocure™
Plasmocure™ is a second-line anti-mycoplasma reagent. It is recommended for Plasmocin®-resistant mycoplasma elimination.  Plasmocure™ rescues cell cultures in 2 weeks.
Important: InvivoGen's anti-mycoplasma products are suitable for research purposes only, and not for human or animal care.


We are continuously improving our anti-microbial reagents.
If you would like to share your experience using Plasmocin® or Plasmocure™, please contact us.

Download our Practical guide on Cell culture contamination

Read our review on Mycoplasma eradication