COVID-19-Related Genes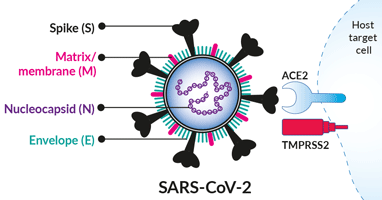 Plasmids for SARS-CoV-2 Research

To assist with the worldwide research effort in understanding and fighting the Coronavirus Disease-2019 (COVID-19), InvivoGen has launched a collection of ready-to-go SARS-CoV-2-related plasmids, encompassing the coding sequences of the virus proteins and human receptors involved in the infection.
Find the vector that matches your needs among:
Depending on your applications, you may choose from:
pUNO1 vectors: designed for mammalian cell expression
​pUNO1His or pUNO1Fc vectors: designed for protein production in mammalian cells
As a guarantee of quality, our genes are fully sequenced.
All the SARS-CoV-2-related plasmids are in stock now and can be shipped out immediately.
InvivoGen's products are for research use only, and not for clinical or veterinary use.

Read our reviews on COVID-19:
➤ The infection cycle of SARS-CoV-2
➤ Treatment with repurposed drugs
➤ Predicted host immune responses to SARS-CoV-2
➤ Vaccine development