Literature

Follow us on

Follow us on

THP1-NLRC4 cells
NLRC4 inflammasome test cell line
THP1-NLRC4 cells are derived from the THP1 human monocytic cell line, which represents the most commonly used model cell line to study inflammasome activation.
THP1-NLRC4 cells stably overexpress NLRC4 and naturally express TLR5. Stimulation of these cells with flagellin triggers TLR5 signaling leading to NF-κB activation and the production of pro-IL1β. Once in the cytosol, flagellin induces the formation of the NLRC4 inflammasome resulting in the activation of caspase-1 and the release of IL-1β.
Levels of IL-1β secreted into the supernatant of THP-1 cells can be monitored using the HEK-Blue™ KD-TLR5 cell line.
Figures for this product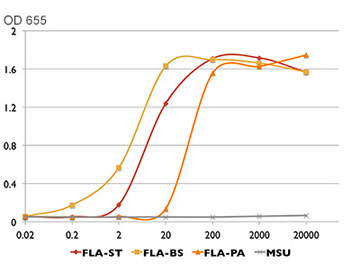 ORDERING
THP1-NLRC4 cells
Description
NLRC4 inflammasome test cell line
Cat. Code
thp-nlrc4
Unit Size
3-7 x 10e6 cells
Price
For price or distributor address,
please select your country
MOST POPULAR
Plasmocin™
Mycoplasma removal agent

More info
High quality ready-to-use selective antibiotics with purity levels exceeding 95%.