Literature

Follow us on

Follow us on

THP1-defCASP1 Cells
Human monocytes with reduced Caspase-1 activity
THP1-defCASP1 cells are derived from THP-1 human monocytic cells.
THP-1 cells are the most commonly used model cell line for the study of inflammasome activation as they express high levels of NLRP3, ASC and pro-caspase-1.
THP1-defCASP1 cells are highly deficient for caspase-1 activity (~7 fold reduction). They produce significantly less IL-1β in response to stimuli that activate the inflammasomes, such as ATP, MSU, and chitosan ultrapure (NLRP3 inflammasome) or transfected poly(dA:dT) (AIM2 inflammasome), when compared to the parental cell line THP1-Null.
THP1-defCASP1 cells, together with the control cell line THP1-Null, allow to determine if a compound is an inflammasome inducer.
The production of IL-1β can be detected using HEK-Blue IL-1β reporter cell line or ELISA kits, such as InvivoGen's LumiKine hIL-1β.
THP1-defCASP1 cells are resistant to hygromycin B.
Figures for this product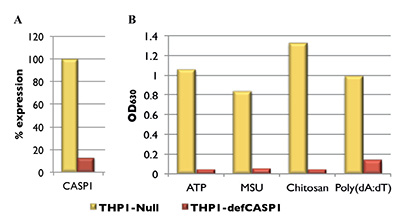 ORDERING
THP1-defCASP1 Cells
Description
Human THP-1 Monocytes - caspase-1 deficient
Cat. Code
thp-dcasp1
Unit Size
3-7 x 10e6 cells
Price
For price or distributor address,
please select your country
Look for Similar Items by Category
MOST POPULAR
Plasmocin™
Mycoplasma removal agent

More info
High quality ready-to-use selective antibiotics with purity levels exceeding 95%.