Mouse Anti-Mouse mAbs
Recombinant monoclonal antibodies for in vivo use

InvivoGen offers an expanding collection of InvivoFit™ recombinant mouse or murinized anti-mouse monoclonal antibodies (mAbs) that were engineered to limit their immunogenicity upon repeated injections in mice. Our mAbs are produced in Chinese hamster ovary (CHO) cells and are provided in an InvivoFit™ grade, a high-quality standard specifically adapted to in vivo studies.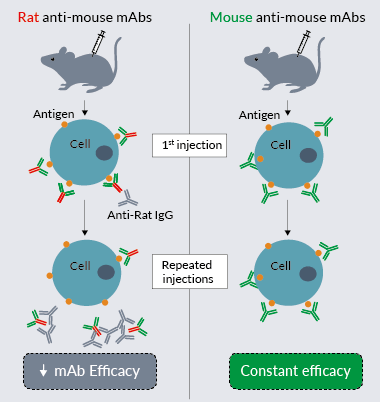 Benefits of mouse anti-mouse mAbs
Our collection includes mAbs targeting:
Key Features:
Sequence is 65% to 100% murine
Filter-sterilized (0.2 µm), endotoxin level: <1 EU/mg
Suitable for parenteral delivery in mice (azide-free)
Low aggregation: < 5%
Produced in animal-free facilities and defined media
InvivoGen's recombinant mouse and murinized anti-mouse mAbs include antibodies for which the sequence is either 100% mouse origin (constant and variable regions), or ~65% mouse origin (constant regions), respectively. The minimal use of xenogeneic sequences limits the immunogenicity of the mAb [1]. Indeed, a major pitfall encountered in murine in vivo studies aimed at evaluating the activity of a mAb upon repeated injections is the decrease and loss of antibody performance if its sequence is not of mouse origin. Repeated injections in mice lead to anti-species antibody generation by the host (e.g. anti-rat antibodies if the mAb was produced in rats). This occurrence increases as the fraction of non-mouse sequences increases. Replacing xenogeneic sequences with mouse sequences reduces antibodies' immunogenicity, and thus helps retain their activity in vivo.

Learn more about the importance of mAb murinization for in vivo mouse models.
 
InvivoGen provides murine IgG1, murine IgG1e3 and murine IgG2a isotype control mAbs for use with the mouse anti-mouse mAbs. These antibodies comprise the variable region of a mouse monoclonal antibody targeting E. coli β-galactosidase and the constant region of corresponding isotypes.
References:
1. Brüggemann M. et al., 1989. The immunogenicity of chimeric antibodies. J. Exp. Med. 170:2153-2157.