Murine Anti-mCD8 mAb
Anti-mCD8-mIgG2a InvivoFit™
Unit size
Cat. code
Docs
Qty
Price

YTS 169.4-derived mouse monoclonal antibody against murine CD8α

1 mg

10 mg

mcd8-mab10-1
You may also need : Murine IgG2a Isotype Control | View more associated products ▼
Recombinant mouse mAb against murine CD8α for in vivo use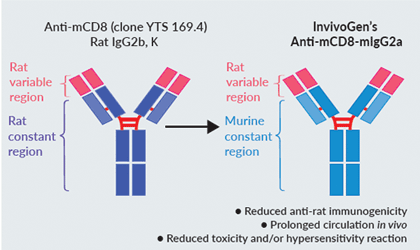 InvivoGen's engineered Anti-mCD8-mIgG2a InvivoFit™ antibody
Anti-mCD8-mIgG2a InvivoFit™ is a mouse anti-mouse monoclonal antibody (mAb) featuring the variable region of the previously described anti-mCD8 YTS 169.4 clone [1]. Using recombinant technology, the original YTS 169.4 rat IgG2b constant region has been replaced with a murine IgG2a format which mediates potent cytotoxic functions [2].
The anti-mCD8 YTS 169.4 mAb is commonly used for in vivo depletion of the CD8+ T cell population to study its role in various immune responses, including in a viral or tumoral context [3-5]. Depending on the nature of the experiment, extended treatment schedules (up to several months) may be required. Upon repeated injection of a xenogeneic mAb, mice produce anti–species antibodies, causing the removal of the administered mAb from circulation, thereby reducing its in vivo efficacy. Moreover, this immunogenicity can lead to fatal hypersensitivity reactions [6-7] which can be reduced by mAb murinization [8].
CD8 background:

The cluster of differentiation 8 (CD8) receptor (formerly named T8) is a 34 kDa transmembrane protein primarily expressed on most thymocytes, and highly expressed by the peripheral mature CD8+ T cell population [9,10].  Two isoforms CD8α (Lyt-2) and CD8β (Lyt-3) are usually co-expressed and form a CD8α/β heterodimer that plays a critical role in CD8+ T cell development and activation. CD8α is mandatory for the development of MHC class I-restricted cytotoxic T cells (CTLs) [9]. CTLs recognize and eliminate infected cells and tumor cells upon the interaction between the TCR on the T cell and the MHC-peptide complex on the antigen-presenting cell [10-12]. Upon antigen recognition, the proximity association of CD8 and the TCR/CD3 complex on T cells triggers downstream intracellular signaling and participates in the cytotoxic T cell activation [9, 10]. Of note, CD8α/α homodimers have been shown to promote the survival and differentiation of activated CD8α/β T cells into memory CD8+ T cells [13]. Other immune cells, such as Natural Killer cells and subsets of dendritic cells also express CD8α [14]. 
Key features of Anti-mCD8-mIgG2a InvivoFit™:

Derives from the YTS 169.4 clone, rat IgG2b, κ
Features the mIgG2a isotype (constant region)
Guaranteed sterile, endotoxin level < 1 EU/mg
Suitable for parental delivery in mice (azide-free)
Low aggregation < 5%
Produced in animal-free facilities and defined media

Anti-mCD8-mIgG2a InvivoFit™ is produced in Chinese hamster ovary (CHO) cells, purified by affinity chromatography with protein A, and provided in an InvivoFit™ grade, a high-quality standard specifically adapted to in vivo studies. The specific binding of this mAb to cell surface mCD8α and its in vivo depleting function have been confirmed (see Figures).
References:
1. Cobbold S.P. et al., 1984. Therapy with monoclonal antibodies by elimination of T-cell subsets in vivo. Nature. 312:548-551.
2. Nimmerjahn F. & Ravetch J.V., 2005. Divergent immunoglobulin g subclass activity through selective Fc receptor binding. Science. 310(5753):1510-2.
3. Greczemiel U. et al., 2020. LCMV-specific CD4 T cell-dependent polyclonal B-cell activation upon persistent viral infection is short lived and extrafollicular. Eur J Immunol. 50:396-403.
4. Menares E. et al., 2019. Tissue-resident memory CD8(+) T cells amplify anti-tumor immunity by triggering antigen spreading through dendritic cells. Nat Comm. 10:4401.
5. Vincent-Fabert C. et al., 2019. Reproducing indolent B-cell lymphoma transformation with T-cell immunosuppression in LMP1/CD40-expressing mice. Cell Mol Immunol 16:412–414.
6. Mall C. et al., 2016. Repeated PD-1/PD-L1 monoclonal antibody administration induces fatal xenogenic hypersensitivity reactions in a murine model of breast cancer. Onco Immunol. 5(2):e1075114.
7. Murphy, J.T. et al., 2014. Anaphylaxis caused by repetitive doses of a GITR agonist monoclonal antibody in mice. Blood. 123(14):2172-2180.
8. Belmar N.A. et al., 2017. Murinization and H chain isotype matching of Anti-GITR antibody DTA-1 reduces immunogenicity-mediated anaphylaxis in C57BL/6 mice. J Immunol. 198:4502-4512.
9. Fung-Leung W.P. et al., 1991. CD8 is needed for development of cytotoxic T cells but not helper T cells. Cell. 65:443-449.
10. Janeway C.A. jr., 1992. The T Cell Receptor as a Multicomponent Signalling Machine: CD4/CD8 Coreceptors and CD45 in T Cell Activation. Annual Rev Immunol. 10:645-674.
11. Norment A.M. et al., 1988. Cell-cell adhesion mediated by CD8 and MHC class I moecules. Nature. 336:79.
12. Shore D.A. et al., 2008. The Crystal Structure of CD8 in Complex with YTS156.7.7 Fab and Interaction with Other CD8 Antibodies Define the Binding Mode of CD8 αβ to MHC Class I. J Mol Biol. 384:1190-1202.
13. Madakamutil L. et al., 2004. CD8alphaalpha-mediated survival and differentiation of CD8 memory T cell precursors. Science. 304:590-593.
14. Laky K. & Kruisbeek AM., 2016. In vivo depletion of T lymphocytes. Current Protocols Immunology. 4.1.1-4.1.9. doi: 10.1002/0471142735.im0401s113.
Back to the top
Specifications
Specificity: Targets cells expressing murine CD8α
Formulation: Lyophilized from 0.2 μm filtered solution in 150 mM sodium chloride, 20 mM sodium phosphate buffer with 5% saccharose
Clonality: Monoclonal antibody
Isotype: Murine IgG2a, kappa
Source: CHO cells
Purity: Purified by affinity chromatography with protein A
Tested application: Flow cytometry; in vivo depletion
Quality control:
Binding of Anti-mCD8-mIgG2a InvivoFit™ to mCD8α has been confirmed using Flow cytometry
Mouse CD8+ T cell in vivo depletion using Anti-mCD8-mIgG2a InvivoFit™ has been confirmed
The complete sequence of the antibody construct has been verified
< 5% aggregates (confirmed by size exclusion chromatography)
Guaranteed sterile and <1 EU/mg (determined by the LAL assay)
Back to the top
Contents
Anti-mCD8-mIgG2a InvivoFit™ is provided sterile, endotoxin-free, azide-free, and lyophilized.  
This product is available in two pack sizes:
mcd8-mab10-1​

:

 1 mg

mcd8-mab10-10​: 

10 mg

 The product is shipped at room temperature.

 Store lyophilized antibody at -20 °C.

 Lyophilized product is stable for at least 1 year

 Avoid repeated freeze-thaw cycles.
Back to the top