IRF INDUCTION (Lucia luciferase reporter)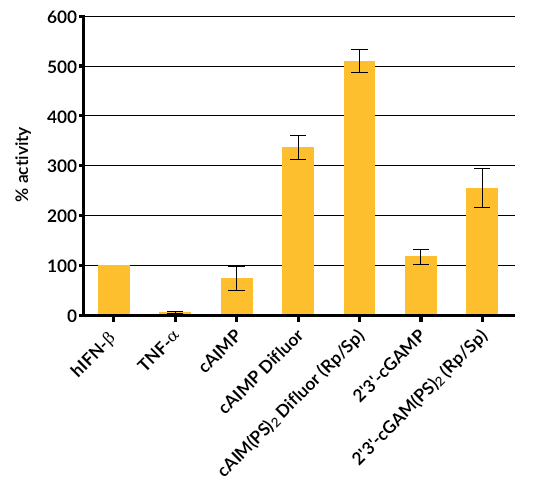 THP1-Dual™ cells were stimulated for 24 hours with human IFN-β (1 x 104 U/ml), TNF-α (300 pg/ml), cAIMP, cAIMP Difluor, cAIM(PS)2 Difluor (Rp/Sp), 2'3'-cGAMP and 2'3'-cGAM(PS)2 (Rp/Sp). All CDNs were used at 10 μg/ml.
IRF induction was determined by measuring the relative light units (RLUs) in a luminometer using QUANTI‑Luc™, a Lucia luciferase detection reagent. The IRF induction of each ligand is expressed relative to that of hIFN-β at 1 x 104 U/ml (taken as 100%).