Literature

Follow us on

Follow us on

PlasmoTest™ - Mycoplasma Detection Kit
PlasmoTest™ provides a simple, rapid and reliable assay for the visual detection of mycoplasma contamination in cell cultures. This assay is the first to utilize cells to signal the presence of mycoplasma.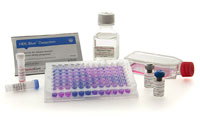 PlasmoTest™ features two major constituents: the Mycoplasma sensor cells and the HEK-Blue™ Detection medium.
The Mycoplasma sensor cells detect the presence of mycoplasmas leading to a color change of the HEK-Blue™ Detection medium. The Mycoplasma sensor cells recognize mycoplasmas through Toll-like Receptor 2 (TLR2), a pathogen recognition receptor. In the presence of mycoplasmas, TLR2 initiates a signaling cascade leading to the activation of NF-kB and other transcription factors. These transcription factors induce the secretion of SEAP (secreted embryonic alkaline phosphatase) in the supernatant which is readily detected by the purple/blue coloration of the HEK-Blue™ Detection medium.
Specifications
• Requires only basic cell culture knowledge
• Hands-on time less than 1 hour. Gives results after overnight incubation
• Detects all cell culture contaminants
• Detects 5.102-5.105 cfu/ml mycoplasmas
• No false positive: a positive result indicates the presence of a cell culture contaminant

• Test up to 250 samples

To perform further assays, only the reagents need to be reordered.
Contents
- HEK-Blue™-2 Cells: 1 vial of 3-7 x 106 frozen cells. Shipped in dry ice
- HEK-Blue™ Selection: 2 x 1 ml of 250X solution of selective antibiotics.
- Normocin™: 1 ml of 500X Normocin™ (1 ml for 500 ml of cell culture medium)
- HEK-Blue™ Detection: 1 pouch (for 50 ml of reconstituted detection medium each)
- HEK-Blue™ Water: 60 ml bottle
- Positive control: 1 tube
- Negative control: 1 tube
Description
Key Features
HEK-Blue™-2 cells, the Mycoplasma sensor cells, are engineered HEK293 cells. These cells stably express TLR2 and multiple genes from the TLR2 pathway and coexpress an optimized SEAP reporter gene, placed under the control of a promoter inducible by the transcription factors NF-kB and AP-1.

HEK-Blue™ Selection is a solution that combines several selective antibiotics. These antibiotics guarantee the persistent expression of the various transgenes introduced in HEK-Blue™-2 cells. Fur thermore, Normocin™ is included in the kit to protect HEK-Blue™-2 cells from any potential microbial contamination, whether caused by mycoplasmas, bacteria or fungi.

HEK-Blue™ Detection is a medium specifically designed for the detection of SEAP. It contains a color substrate that produces a purple/blue color following its hydrolysis by SEAP.
Ref.
- Lincoln CK, Gabridge MG. , 1998. Cell culture contamination: sources, consequences, prevention, and elimination. Methods Cell Biol. 57: 49-65.
- Uphoff CC, Drexler HG. , 2002. Comparative PCR analysis for detection of mycoplasma infections in continuous cell lines. In Vitro Cell Dev Biol Anim. 38: 79-85.
- Doyle A, Gri ffi ths JB. , 1998. The cell: selection and standardization. In: Cell and tissue culture: laboratory procedures in biotechnology. Doyle, A and Griffiths JB (Eds), Wiley and Sons, Ltd. pp.35-52.
- McGarri ty G. et al . , 1992. Mycoplasmas and tissue culture cells. In: Maniloff, J., McElhaney, R.N., Finch, L.R., Baseman, J.B. (Eds), Mycoplasmas, Molecular Biology and Pathogenesis, American Society for Microbiology, Washington DC, pp.445-54.
Citations
Recent articles using InvivoGen PlasmoTest™ - Mycoplasma Detection Kit
ORDERING
PlasmoTest™
Description
Mycoplasma contamination detection kit
Cat. Code
rep-pt1
Unit Size
1 kit (250 samples)
Price
For price or distributor address,
please select your country
MOST POPULAR
Plasmocin™
Mycoplasma removal agent

More info
High quality ready-to-use selective antibiotics with purity levels exceeding 95%.