Literature

G418 (Geneticin)
Selection antibiotic: cell culture tested, sterile reagent
G418 (Geneticin) is an aminoglycoside antibiotic similar in structure to gentamicin B1, produced by Micromonospora rhodorangea. G418 blocks polypeptide synthesis by inhibiting the elongation step in both prokaryotic and eukaryotic cells. Resistance to G418 is conferred by the Neomycin resistance gene (neo) from Tn5 encoding an aminoglycoside 3'-phosphotransferase, APH 3' II.
Selection in mammalian cells is usually achieved in three to seven days with concentrations ranging from 400 to 1000 µg/ml. Cells that are dividing are affected sooner than those that are not.
Specifications
Product concentration: 100 mg/ml
Working concentration: 400 to 1000 µg/ml in mammalian cells
CAS number: 108321-42-2
Purity: ≥90% (HPLC)
Molecular weight: 692.7
Formula: C20H40N4O10. 2H2SO4
Contents
G418 Sulfate is supplied as a 100 mg/ml solution in H2O in different formats:
- 10 x 1 ml at 100 mg/ml (1 g)

- 1 x 50 ml at 100 mg/ml (5 g)
Details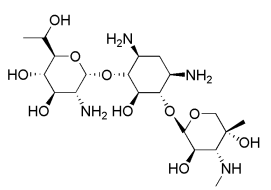 Ref.
- Davies J & Jimenez A. 1980. A new selective agent for eukaryotic cloning vectors. Am J Trop Med Hyg 29(5 Suppl):1089-92
- Bar-Nun S et al. 1983. G-418, an elongation inhibitor of 80 S ribosomes. Biochim Biophys Acta. 741(1):123-7.
- Beck E et al. 1982. Nucleotide sequence and exact localization of the neomycin phosphotransferase gene from transposon Tn5. Gene 19(3):327-36
Citations
Recent articles using InvivoGen G418 (Geneticin)
ORDERING
G418
Cat. Code
ant-gn-1
Unit Size
1 g (10 x 1ml)
Price
For price or distributor address,
please select your country
G418
Cat. Code
ant-gn-5
Unit Size
5 g (1 x 50 ml)
Price
For price or distributor address,
please select your country
MOST POPULAR
Plasmocin™
Mycoplasma removal agent

More info
High quality ready-to-use selective antibiotics with purity levels exceeding 95%.