Literature

Follow us on

Follow us on

G418 (Geneticin)
Selection antibiotic: cell culture tested, sterile reagent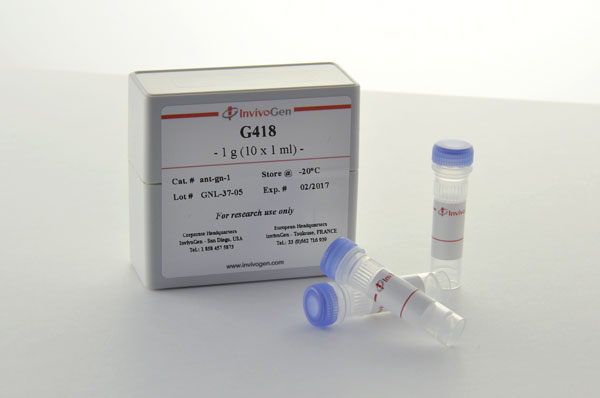 G418, also known as G418 sulfate and Geneticin, is an aminoglycoside antibiotic similar in structure to gentamicin B1, produced by Micromonospora rhodorangea. G418 blocks polypeptide synthesis by inhibiting the elongation step in both prokaryotic and eukaryotic cells. Resistance to G418 is conferred by the Neomycin resistance gene (neo) from Tn5 encoding an aminoglycoside 3'-phosphotransferase, APH 3' II.
Selection in mammalian cells is usually achieved in three to seven days with concentrations ranging from 400 to 1000 µg/ml. Cells that are dividing are affected sooner than those that are not.
Specifications
Product concentration: 100 mg/ml
CAS number: 108321-42-2
Quality Control: Each lot is thoroughly tested to ensure the absence of lot-to-lot variation.
Purity: ≥ 90% (HPLC)
Endotoxin level: < 0.5 EU/mg
Physicochemical characterization: pH, appearance
Cell-culture tested: potency validated in G418-sensitive and G418-resistant mammalian cell lines
Non-cytotoxicity of trace contaminants: absence of long-term effects confirmed in G418-resistant cells
Contents
G418 is supplied as a sterile filtered solution at 100 mg/ml in HEPES buffer. This product is available in two pack sizes:
- ant-gn-1: 10 x 1 ml (1 g)
- ant-gn-5: 1 x 50 ml (5 g)
G418 is shipped at room temperature. Upon receipt it should be stored at 4°C.
Details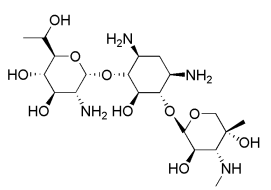 Citations
Recent articles using InvivoGen G418 (Geneticin)
ORDERING
G418
Cat. Code
ant-gn-1
Unit Size
1 g (10 x 1ml)
Price
For price or distributor address,
please select your country
G418
Cat. Code
ant-gn-5
Unit Size
5 g (1 x 50 ml)
Price
For price or distributor address,
please select your country
MOST POPULAR
Plasmocin™
Mycoplasma removal agent

More info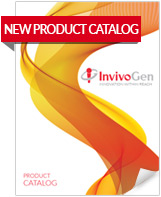 High quality ready-to-use selective antibiotics with purity levels exceeding 95%.