Literature

Follow us on

Follow us on

HEK-Blue™ KD-TLR5 cells
TLR5 deficient, IL-1β reporter cells
HEK-Blue™ KD-TLR5 cells are designed to monitor bioactive IL-1β secreted by THP-1 cells upon flagellin-induced NLRC4 activation.
HEK-Blue™ KD-TLR5 cells are derived from the HEK293 cell line, which endogenously expresses TLR5 and the IL-1β receptor (IL-1R).
This cell line features an NF-κB-inducible SEAP reporter gene and was engineered to knock-down the expression of TLR5 to avoid activation of NF-κB upon flagellin-induced TLR5 stimulation.
The knockdown of TLR5 permits the analysis of flagellin specifically for its NLRC4 stimulating activity.
Binding of IL-1β to IL-1R initiates a signaling cascade leading to the activation of NF-κB and the subsequent production of SEAP. Detection of SEAP in the supernatant of HEK-Blue™ KD-TLR5 cells can be readily assessed using the QUANTI-Blue™ assay.
Figures for this product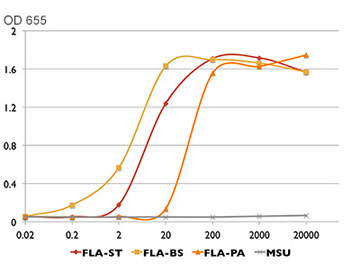 ORDERING
HEK-Blue™ KD-TLR5 cells
Description
TLR5 deficient - IL1-β SEAP reporter HEK293 cells
Cat. Code
hkb-kdtlr5
Unit Size
3-7 x 10e6 cells
Price
For price or distributor address,
please select your country
MOST POPULAR
Plasmocin™
Mycoplasma removal agent

More info
High quality ready-to-use selective antibiotics with purity levels exceeding 95%.