Literature

Follow us on

Follow us on

293/TLR5
293/TLR5 cells were obtained by stable transfection of HEK293 cells with a pUNO-TLR5 plasmid which expresses the human or murine TLR5 gene.

The control cell line of 293/TLR5 cells is 293/null.
Figures for this product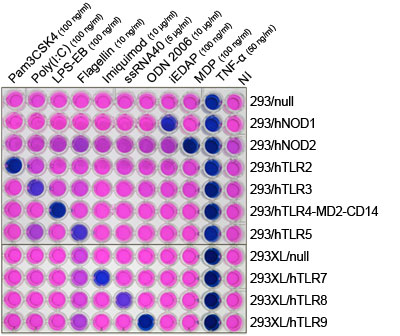 Specifications
Antibiotic resistance: blasticidin
Growth medium: DMEM, 4.5 g/l glucose, 2-4 mM L-glutamine, 10% (v/v) fetal bovine serum, 50 U/ml penicillin, 50 μg/ml streptomycin, 100 μg/ml Normocin™
Guaranteed mycoplasma-free
Shipped on dry ice
Description
TLR5 recognizes flagellin from both Gram-positive and Gram-negative bacteria. Activation of the receptor stimulates the production of proinflammatory cytokines, such as TNF-α, through signaling via the adaptor protein MyD88 and the serine kinase IRAK [1, 2]. TLR5 can generate a proinflammatory signal as a homodimer suggesting that it might be the only TLR participating in flagellin recognition [2]. However, TLR5 may require the presence of a co-receptor or adaptor molecule for efficient ligand recognition and/or signaling [3].
1. Gewirtz AT. et al., 2001. Cutting edge: bacterial flagellin activates basolaterally expressed TLR5 to induce epithelial proinflammatory gene expression. J Immunol, 167(4):1882-5
2. Hayashi F. et al., 2001. The innate immune response to bacterial flagellin is mediated by Toll-like receptor 5. Nature, 410(6832):1099-103
3. Tallant T. et al., 2004. Flagellin acting via TLR5 is the major activator of key signaling pathways leading to NF-kappa B and proinflammatory gene program activation in intestinal epithelial cells. BMC Microbiol. 4(1):33.
Details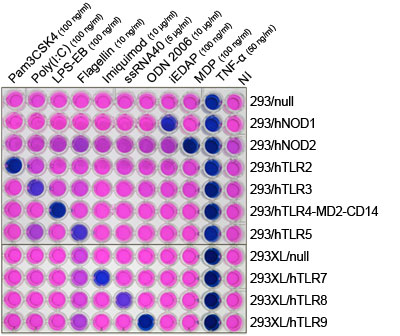 TLR and NOD induction profile of 293 clones :
293/TLR, NOD and control clones were transfected transiently with pNiFty-SEAP and stimulated with TLR and NOD ligands. After 16 hour stimulation, NF-κB-induced SEAP activity was assessed using QUANTI-Blue™, a SEAP detection medium.
Citations
Recent articles using InvivoGen 293/TLR5
2014

- J Virol., 88(10):5242-55.
Yeast virus-derived stimulator of the innate immune system augments the efficacy of virus vector-based immunotherapy.
Claudepierre MC, Hortelano J, Schaedler E, Kleinpeter P, Geist M, Remy-Ziller C, Brandely R, Tosch C, Laruelle L, Jawhari A, Menguy T, Marchand JB, Romby P, Schultz P, Hartmann G, Rooke R, Bonnefoy JY, Preville X, Rittner K.
Free article

2014

- J Biol Chem. , 289(27):19231-44.
Identification of the flagellin glycosylation system in Burkholderia cenocepacia and the contribution of glycosylated flagellin to evasion of human innate immune responses.
Hanuszkiewicz A, Pittock P, Humphries F, Moll H, Rosales AR, Molinaro A, Moynagh PN, Lajoie GA, Valvano MA.

ORDERING
293/hTLR5
Description
HEK 293 cells stably transfected with the human TLR5 gene
Cat. Code
293-htlr5
Unit Size
3-7 x 10e6 cells
Price
For price or distributor address,
please select your country
293/mTLR5
Description
HEK 293 cells stably transfected with the murine TLR5 gene
Cat. Code
293-mtlr5
Unit Size
3-7 x 10e6 cells
Price
For price or distributor address,
please select your country
MOST POPULAR
Plasmocin™
Mycoplasma removal agent

More info
High quality ready-to-use selective antibiotics with purity levels exceeding 95%.