Literature

Follow us on

Follow us on

HEK-Dual™ IFN-γ cells
HEK-Dual™ IFN-γ cells allow the detection of bioactive human IFN-γ by monitoring the activation of the JAK/STAT-1 pathway.
HEK-Dual™ IFN-γ cells were generated by stable transfection of HEK293 cells with the human STAT1 gene to obtain a fully active STAT1 pathway. The cells were further transfected with two reporter genes under the control of an IFN-γ inducible promoter.
As a result, HEK-Dual™ IFN-γ cells allow to study the activation of JAK/STAT-1 pathway, by monitoring the activity of two different reporters, SEAP or a secreted luciferase (Lucia).
Both reporter proteins are readily measurable in the cell culture supernatant when using QUANTI-Blue™, a SEAP detection reagent, and QUANTI-Luc™, a luciferase detection reagent.
Figures for this product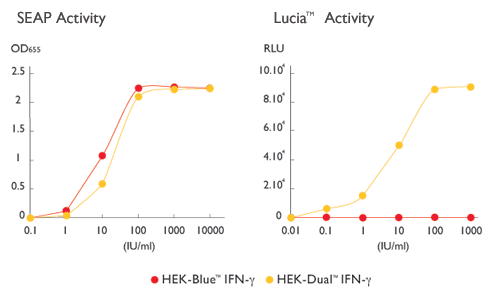 ORDERING
HEK-Dual™ IFN-γ cells
Description
Human IFN-γ SEAP/Lucia®-reporter cells
Cat. Code
hkd-ifng
Unit Size
3-7 x 10e6 cells
Price
For price or distributor address,
please select your country
MOST POPULAR
Plasmocin™
Mycoplasma removal agent

More info
High quality ready-to-use selective antibiotics with purity levels exceeding 95%.