Literature

Follow us on

Follow us on

Lucia luciferase Gene
InvivoGen provides the Lucia secreted luciferase reporter gene in the pSELECT-zeo plasmid.
It can be used in vivo and in vitro to transfect mammalian cells stably or transiently.
Lucia luciferase gene expression is driven by the EF-1α/HTLV composite promoter that combines the elongation factor 1 alpha core promoter and the 5'untranslated region of the Human T-cell Leukemia Virus.
The pSELECT-zeo-Lucia plasmid contains the zeocin resistance marker for selection in both mammalian cells and bacteria.
Specifications
Selectable with Zeocin™ in both mammalian cells and bacteria

Provided as lyophilized DNA
These products are covered by a Limited Use License (See Terms and Conditions).
Contents
Lucia luciferase reporter gene is provided as 20 µg of lyophilized DNA.
It is supplied with 1 pouch of QUANTI-Luc™ and 2 pouches of E. coli Fast-Media® Zeo TB and 2 pouches of E. coli Fast-Media® Zeo Agar.
Plasmid is shipped at room temperature.
Store at -20°C for up to one year.
Description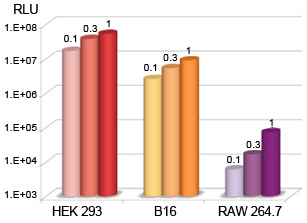 High signal sensitivity.
The human embryonic kidney HEK293, the murine melanoma B16 and the murine macrophage RAW 264.7 cell
lines were transiently transfected with 0.1, 0.3 or 1 µg/ml of pSELECT-Lucia-zeo plasmid using the transfection reagent LyoVec™.
Forty-eight hours after transfection, cell supernatants were assessed for luciferase activity using QUANTI-Luc™.
Details
Citations
Recent articles using InvivoGen Lucia luciferase Gene
ORDERING
pSELECT-zeo-Lucia
Cat. Code
psetz-lucia
Unit Size
20 µg
Price
For price or distributor address,
please select your country
MOST POPULAR
Plasmocin™
Mycoplasma removal agent

More info
High quality ready-to-use selective antibiotics with purity levels exceeding 95%.