Literature

Follow us on

Follow us on

Recombinant Lucia Luciferase Protein
A coelenterazine luciferase encoded by a synthetic gene
Recombinant Lucia Luciferase Protein is a positive control for luciferase reporter assays.
It can be used as an internal positive control and as a reference to produce accurate standard curves with QUANTI-Luc™, a coelenterazine-based luminescence assay reagent.
This monomeric protein is expressed in CHO cells. The mature protein has an approximate molecular weight of 24 kDa.
Catalog code change notification
August, 7th 2017
Recombinant Lucia Luciferase Protein is provided as a 10-µg unit size (previously sold as a 1-µg unit size). This product is now sold at a more competitive price. Please note the cat. code change from rec-lucia to rec-lucia-1.
Specifications
Applications: Positive control for QUANTI-Luc™, a luciferase reporter assay reagent.
A dilution series of the recombinant Lucia luciferase protein can also be used to determine the linear range of the assay.
Formulation: 10% v/v FBS-containing DMEM culture medium
These products are covered by a Limited Use License (See Terms and Conditions).
Contents
• 10 μg lyophilized recombinant Lucia luciferase protein
Product is shipped at room temperature. Store at -20°C for 12 months.
Details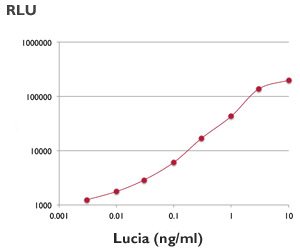 Activity of recombinant Lucia luciferase protein determined by measuring Relative Light Units (RLU) in a luminometer using QUANTI-Luc™.
ORDERING
Recombinant Lucia
Description
Recombinant luciferase protein
Cat. Code
rec-lucia-1
Unit Size
10 µg
Price
For price or distributor address,
please select your country
Look for Similar Items by Category
MOST POPULAR
Plasmocin™
Mycoplasma removal agent

More info
High quality ready-to-use selective antibiotics with purity levels exceeding 95%.