Literature

Follow us on

Follow us on

HEK-Blue™ ISG Cells
HEK-Blue™ ISG cells were specifically designed to study the activation of the STING/TBK1/IRF3 signaling pathway by CDNs.
HEK-Blue™ ISG cells were derived from the PEAKrapid cell line (similar to ATCC® CRL-2828™) which itself was derived from the HEK293 cell line.
HEK-Blue™ ISG cells express a secreted embryonic alkaline phosphatase (SEAP) under the control of the IRF-inducible promoter comprised of five IFN-stimulated response elements (ISRE) fused to an ISG54 minimal promoter.
CDNs in the cytosol bind directly to STING leading to TBK1-mediated IRF3 activation and type I IFN production. IFNs activate the JAK-STAT pathway with the subsequent activation of IFN-stimulated response elements (ISRE) in the promoters of IFN-stimulated genes (ISG). Hence, the presence of CDNs in the cytosol of HEK-Blue™ ISG cells will induce the production of the IRF-inducible SEAP reporter directly by activating the STING/TBK1/IRF3 pathway and indirectly through the activation of the JAK/STAT/IRF9 pathway with type I IFN.
Levels of SEAP in the supernatant can be easily determined with QUANTI- Blue™, a reagent that turns purple/blue in the presence of SEAP and by reading the OD at 620-655 nm.
HEK-Blue™ ISG cells respond strongly to non-canonical CDNs, namely 2'3'-cGAMP and 2'2'-cGAMP but poorly to cytosolic DNA, DMXAA and canonical cyclic dinucleotides (CDNs).
Figures for this product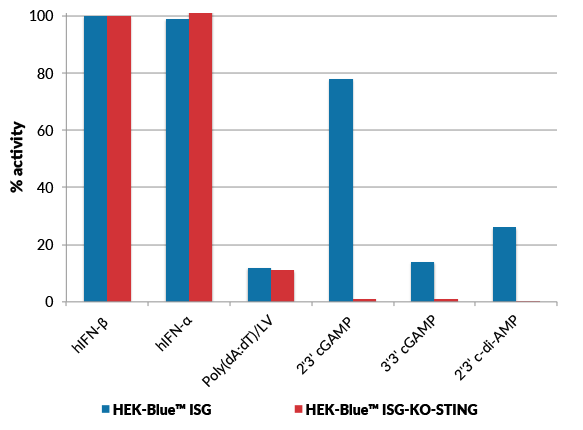 Specifications
Antibiotic resistance: G418, Zeocin™
Growth Medium: DMEM, 4.5 g/l glucose, 10% (v/v) fetal bovine serum, 50 U/ml penicillin, 50 µg/ml streptomycin, 100 µg/ml Normocin™, 2 mM L-glutamine supplemented with Zeocin™ selective antibiotic only
Quality control
Reporter activity is validated upon stimulation with IFN-α or IFN-β and IRF3 activators such as 2'2'-cGAMP.
These cells are guaranteed mycoplasma-free.
Contents
• 1 vial of HEK-Blue™ ISG Cells (3-7 x 106 cells)
• 100 μl Zeocin™ (100 mg/ml).
• 1 ml Normocin™ (50 mg/ml).
• 1 pouch of QUANTI-Blue™ (SEAP detection medium).
Shipped on dry ice
Details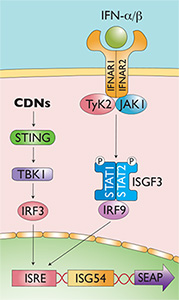 ORDERING
HEK-Blue™ ISG Cells
Description
Interferon Regulatory Factor (IRF)-Inducible SEAP Reporter HEK293 Cells
Cat. Code
hkb-isg
Unit Size
3-7 x 10e6 cells
Price
For price or distributor address,
please select your country
MOST POPULAR
Plasmocin™
Mycoplasma removal agent

More info
High quality ready-to-use selective antibiotics with purity levels exceeding 95%.