Literature

Follow us on

Follow us on

Jurkat-Lucia™ NFAT Cells
NEW
Jurkat-Lucia™ NFAT cells were derived from the human T lymphocyte-based Jurkat cell line by stable integration of an NFAT-inducible Lucia reporter construct. The Lucia gene, which encodes a secreted coelenterazine-utilizing luciferase, is driven by an ISG54 minimal promoter fused to six copies of the NFAT consensus transcriptional response element.
Jurkat-Lucia™ NFAT cells induce the activation of NFAT in response to PMA and ionomycin, and T-lymphocyte mitogens, such as concanavalin A (ConA) and phytohemagglutinin.
Jurkat-Lucia™ NFAT cells can be used for the study of NFAT activation following stimuli treatments by monitoring Lucia luciferase activity. Levels of Lucia luciferase are readily measurable in the cell culture supernatant when using QUANTI-Luc™, a Lucia luciferase detection reagent.
Jurkat-Lucia™ NFAT cells are resistant to the selective antibiotic Zeocin™.
Figures for this product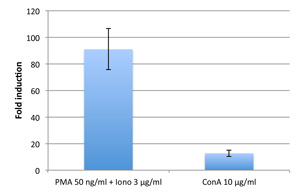 Specifications
Antibiotic resistance: Zeocin™
Guaranteed mycoplasma-free
Shipped on dry ice
These products are covered by a Limited Use License (See Terms and Conditions).
Contents
• 1 vial of Jurkat-Lucia™ NFAT cells (3-7 x 106 cells) in Freezing Medium
• 1 ml Normocin™ (50 mg/ml). Normocin™ is a formulation of three antibiotics active against mycoplasmas, bacteria and fungi
• 100 μl Zeocin™ (100 mg/ml)
• 1 pouch of QUANTI-Luc™
IMPORTANT: Cells are shipped frozen. If cells are not frozen upon arrival, contact InvivoGen immediately.
Description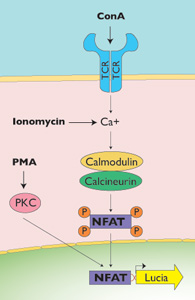 NFAT (nuclear factor of activated T cells) proteins are a family of transcription factors that are important in the development and function of the immune system. In T cells, NFAT proteins regulate thymocyte development, T cell activation, differentiation and self-tolerance. Their activation is induced by the engagement of the T cell receptor (TCR) that is coupled to the calcium-signaling pathway. Calcium binds calmodulin and activates calcineurin, which in turn dephosphorylates NFAT proteins inducing their nuclear translocation and activation, and the transcription of specific responsive genes.
Details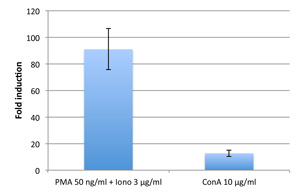 Jurkat-Lucia™ NFAT cells induced by PMA+ionomycin, or by T-lymphocyte mitogen concanavalin A (ConA).
ORDERING
Jurkat-Lucia™ NFAT Cells
NEW!
Description
NFAT-Luc Reporter T lymphocytes
Cat. Code
jktl-nfat
Unit Size
3-7 x 10e6 cells
Price
For price or distributor address,
please select your country
MOST POPULAR
Plasmocin™
Mycoplasma removal agent

More info
High quality ready-to-use selective antibiotics with purity levels exceeding 95%.