Literature

Follow us on

Follow us on

pSELECT His-Tag
pSELECT His-Tag is a family of expression plasmids designed to generate tagged proteins in mammalian cells with the polyhistidine (His) tag in order to purify the tagged protein using an NI-NTA column. pSELECT His-Tag plasmids allow to add the tag either at the N or C terminus of the protein of interest. pSELECT His-Tag plasmids are available with Blasticidin or Zeocin™ resistance gene for selection.
Specifications
N-Tagged or C-Tagged Protein
- N-terminal tag: the tag encompasses the Start Codon and is followed by a multiple cloning site (MCS)
- C-terminal tag: the tag is cloned downstream of a multiple cloning site and followed by a Stop codon
Contents
- 20 µg of lyophilized DNA
- 4 pouches of E. coli Fast-Media® containing the appropriate selective antibiotic (2 TB and 2 Agar)
Details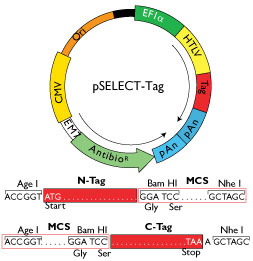 ORDERING
MOST POPULAR
Plasmocin™
Mycoplasma removal agent

More info
High quality ready-to-use selective antibiotics with purity levels exceeding 95%.