Literature

Follow us on

Follow us on

pSELECT GFP-Tag
pSELECT GFP-Tag is a family of expression plasmids designed to generate tagged proteins in mammalian cells with the green fluorescent protein (GFP) in order to visualize the spatial and temporal localization of the protein of interest by fluorescence microscopy. pSELECT GFP-Tag plasmids allow to add the tag either at the N or C terminus of the protein of interest. pSELECT GFP-Tag plasmids are available with Blasticidin or Zeocin™ resistance gene for selection.
Specifications
N-Tagged or C-Tagged Protein
- N-terminal tag: the tag encompasses the Start Codon and is followed by a multiple cloning site (MCS)
- C-terminal tag: the tag is cloned downstream of a multiple cloning site and followed by a Stop codon
Contents
- 20 µg of lyophilized DNA
- 4 pouches of E. coli Fast-Media® containing the appropriate selective antibiotic (2 TB and 2 Agar)
Details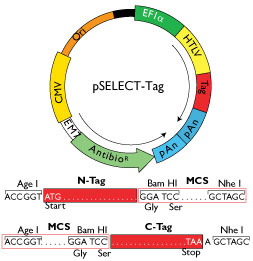 ORDERING
MOST POPULAR
Plasmocin™
Mycoplasma removal agent

More info
High quality ready-to-use selective antibiotics with purity levels exceeding 95%.