Literature

Follow us on

Follow us on

Pam3CSK4
Synthetic triacylated lipoprotein
Pam3CSK4 is a synthetic triacylated lipopeptide (LP) that mimics the acylated amino terminus of bacterial LPs.
Pam3CSK4 is a potent activator of the proinflammatory transcription factor NF-κB. Activation is mediated by the TLR2/TLR1 heterodimer, which recognizes LPs with three fatty acids, a structural characteristic of bacterial LPs.
Specifications
Specificity: TLR 1/2 agonist
Working concentration: 1 - 300 ng/ml
CAS number: 112208-00-1
Molecular formula: C81H156N10O13S
Molecular weight: 1509.6
Endotoxin level: Solubility: 1 mg/ml in water
Contents
• 1 mg Pam3CSK4
• 1.5 ml endotoxin-free water

Pam3CSK4 is provided lyophilized and shipped at room temperature. Store at 4°C. Lyophilized product is stable 1 year when properly stored. Upon resuspension, prepare aliquots of Pam3CSK4 and store at 4°C for short term storage or -20°C for long storage. Resuspended product is stable 1 month at 4°C and 6 months at -20°C when properly stored.
Description
Bacterial lipoproteins are a family of proinflammatory cell wall components found in both Gram positive and Gram negative bacteria. The stimulatory activity of bacterial lipoproteins resides in their acylated amino terminus. Pam3CSK4 is a synthetic tripalmitoylated lipopeptide that mimicks the acylated amino terminus of bacterial lipoproteins. Pam3CysSerLys4 (Pam3CSK4) is a potent activator of the proinflammatory transcription factor NF-κB [1]. Recognition of Pam3CSK4 is mediated by TLR2 which cooperates with TLR1 through their cytoplasmic domain to induce the signaling cascade leading to the activation of NF-κB [2].

1. Aliprantis AO et al., 1999. Cell activation and apoptosis by bacterial lipoproteins through toll-like receptor-2. Science.285(5428):736-9.
2. Ozinsky A. et al., 2000. The repertoire for pattern recognition of pathogens by the innate immune system is defined by cooperation between toll-like receptors. PNAS. 97(25):13766-71.
Details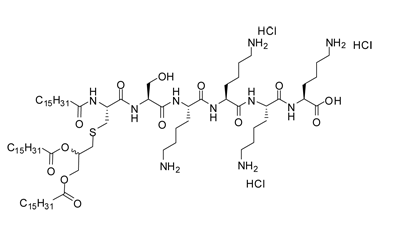 Citations
Recent articles using InvivoGen Pam3CSK4
ORDERING
Pam3CSK4
Description
Synthetic triacylated lipoprotein - TLR1/2
Cat. Code
tlrl-pms
Unit Size
1 mg
Price
For price or distributor address,
please select your country
Look for Similar Items by Category
MOST POPULAR
Plasmocin™
Mycoplasma removal agent

More info
High quality ready-to-use selective antibiotics with purity levels exceeding 95%.