Literature

Follow us on

Follow us on

STING Ligands
Cyclic dinucleotides and xanthenone derivative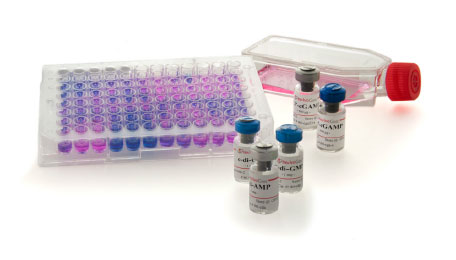 Cyclic dinucleotides (CDNs) and the xanthenone derivative DMXAA, were recently found to bind to and activate STING, leading to a potent type I IFN response.
CDNs are important messengers in bacteria, affecting numerous responses of the prokaryotic cell, but also in mammalian cells, acting as agonists of the innate immune response.
CDNs represent a promising new class of vaccine adjuvants. To assist your research needs, InvivoGen provides a large collection of CDNs available in two grades:
- InvivoGen Standard Grade: purity ≧ 95%, validated using cell-based assays;
- VacciGrade™: sterility guaranteed and endotoxin level < 1 EU/mg, in addition to the above-mentioned criteria.
Natural CDNs
cAIM-derived CDNs
cGAMP-derived CDNs
c-di-AMP-derived CDNs
c-di-GMP-derived CDNs
c-di-IMP-derived CDNs
Control CDNs
Xanthenone Analog