Literature

Follow us on

Follow us on

Recombinant SEAP Protein
Recombinant SEAP (secreted embryonic alkaline phosphatase) protein is a truncated form of human placental alkaline phosphatase that comprises 520 amino acids.
It is expressed in CHO cells and shows a 75 kDa band on SDS page. Recombinant SEAP protein is purified by affinity chromatography.
Specifications
Formulation: SEAP protein is formulated in 91 mM glycine, 91 mM TRIS and 5% w/v saccharose.
Purity : > 90% determined by SDS-PAGE Coomassie Blue under denaturing conditions

Applications: Positive control for SEAP reporter assays.
A dilution series of the recombinant SEAP protein can also be used to determine the linear range of the assays.
For research use only, not for diagnostic or therapeutic use
Contents
10 μg lyophilized recombinant human secreted embryonic alkaline phosphatase (SEAP)
Product is shipped at room temperature. Store at -20°C for 12 months.
Details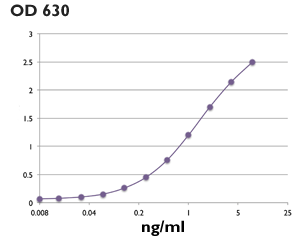 Activity of recombinant SEAP protein determined by measuring the OD at 630 nm using QUANTI-Blue™. Values were measured after 1h in QUANTI-Blue™.
ORDERING
Recombinant SEAP Protein
Description
Recombinant secreted embryonic alkaline phosphatase protein
Cat. Code
rec-hseap
Unit Size
10 µg
Price
For price or distributor address,
please select your country
Look for Similar Items by Category
MOST POPULAR
Plasmocin™
Mycoplasma removal agent

More info
High quality ready-to-use selective antibiotics with purity levels exceeding 95%.