Literature

Genes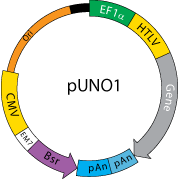 InvivoGen offers a collection of high quality, full-length sequenced human and mouse open reading frames (ORFs) available in an expression vector ready-to-use for protein expression.
All ORFs are cloned downstream of a strong and ubiquitous mammalian promoter which makes these clones suitable for expression and functional studies in various mammalian cell lines.
MOST POPULAR
Plasmocin™
Mycoplasma removal agent

More info
High quality ready-to-use selective antibiotics with purity levels exceeding 95%.