Literature

Follow us on

Follow us on

Puromycin-resistance
Coding sequence in expression plasmid
Alias: pac
Puromycin-resistance gene

This gene is available in
pUNO1
expression plasmid selectable with
Blasticidin
.
Specifications
Streptomyces sp. Puromycin-resistance (pUNO1-pac)
ORF Size: 597bp
Subclone: BspHI - NheI

Contents
- 20 µg of lyophilized DNA.
- 4 pouches of E. coli Fast-Media® Blas (2 TB and 2 Agar)
- 1 ml blasticidin at 10 mg/ml
ORDERING
pUNO1-pac
Description
pUNO1 bearing streptomyces sp. Puromycin-resistance Gene
Cat. Code
puno1-pac
Unit Size
20 µg
Price
For price or distributor address,
please select your country
MOST POPULAR
Plasmocin™
Mycoplasma removal agent

More info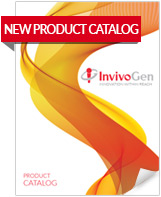 High quality ready-to-use selective antibiotics with purity levels exceeding 95%.