Literature

Follow us on

Follow us on

THP1-XBlue™-MD2-CD14 Cells
THP1-XBlue™-MD2-CD14 cells derive from the THP1-XBlue™ cell line. THP1-XBlue™-MD2-CD14 cells stably express the human MD2 and CD14 genes. MD2 is an accessory molecule essential for LPS-induced TLR4 response. CD14, a macrophage-specific differentiation antigen, interacts with several TLRs, including TLR4 and TLR2. Overexpression of CD14 was found to increase the response to the majority of TLR ligands.
THP1-XBlue™-MD2-CD14 cells express an NF-κB/AP-1-inducible SEAP (secreted embryonic alkaline phosphatase) reporter gene. TLR stimulation in THP1-XBlue™-MD2-CD14 cells induces signaling cascades leading to the activation of NF-κB and AP-1 and the subsequent production of SEAP. The reporter protein is easily detectable and measurable when using QUANTI-Blue™, a medium that turns purple/blue in the presence of SEAP.
Figures for this product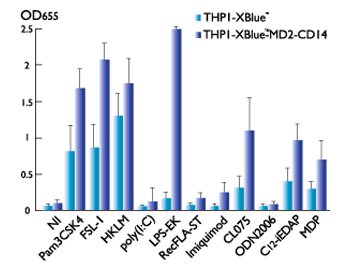 ORDERING
THP1 -XBlue™-MD2-CD14 cells
Description
NF-kB/AP-1 Reporter MD2 CD14 co-transfected Monocytes
Cat. Code
thpx-mdcdsp
Unit Size
3-7 x 10e6 cells
Price
For price or distributor address,
please select your country
Look for Similar Items by Category
MOST POPULAR
Plasmocin™
Mycoplasma removal agent

More info
High quality ready-to-use selective antibiotics with purity levels exceeding 95%.