Literature

Follow us on

Follow us on

Recombinant human STING
NEW
STING (stimulator of interferon genes; also known as TMEM173, MITA, MPYS, and ERIS) is essential for the interferon response to microbial or self-DNA, and acts as a direct sensor of cyclic dinucleotides (CDNs). CDNs are important messengers in bacteria, affecting numerous responses of the prokaryotic cell, but also in mammalian cells, acting as agonists of the innate immune response.
STING senses the presence of CDNs in the cytoplasm through its soluble CDN-binding domain [1]. Several non‑synonymous variants of STING have been described in the human population. The prevalent human STING isoform (~60% of the human population) contains an arginine at position 232 (R232) and is thus considered as wild‑type [2,3]. Recombinant human STING corresponds to the cytoplasmic domain of the R232 variant. This protein is produced in Chinese hamster ovary (CHO) cells transfected with a DNA sequence encoding a polypeptide chain containing the soluble CDN-binding domain. Recombinant human STING was purified by affinity chromatography.
Specifications
Source: Mammalian; CHO cells
Predicted molecular mass: 27.3 kDa
Molecular mass: ~27 kDa (SDS-PAGE)
Amino acids: 137-379
Gene Name: TMEM173
Gene ID: 340061
UniProt ID: Q86WV6
Variant: R232
Formulation: Recombinant human STING was lyophilized from a 0.2 μm filtered phosphate buffer solution (pH 7.4) with 5% (w/v) saccharose
Quality control:
- Purity greater than 90% as determined by SDS-PAGE
- The absence of bacterial contamination (e.g. lipoproteins and endotoxins) has been confirmed using HEK-Blue™ TLR2 and HEK‑Blue™ TLR4 cells.
Applications:
- Analyzing protein-ligand interactions
- ELISA
- Western blotting
Contents
25 μg of recombinant human STING (R232 variant)
1.5 ml sterile endotoxin-free water
Details
Sequence:
KGLAPAEISAVCEKGNFNVAHGLAWSYYIGYLRLILPELQ
ARIRTYNQHYNNLLRGAVSQRLYILLPLDCGVPDNLSMAD
PNIRFLDKLPQQTGDRAGIKDRVYSNSIYELLENGQRAGT
CVLEYATPLQTLFAMSQYSQAGFSREDRLEQAKLFCRTLE
DILADAPESQNNCRLIAYQEPADDSSFSLSQEVLRHLRQE
EKEEVTVGSLKTSAVPSTSTMSQEPELLISGMEKPLPLRTDFS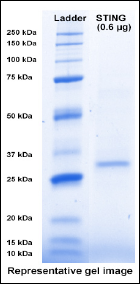 Ref.
Yin Q. et al., 2015. Structural biology of innate immunity. Annu Rev Immunol. 33:393-416.
Jin L. et al., 2011. Identification and characterization of a loss-offunction human MPYS variant. Genes Immun. 12(4):263-9.
Yi G. et al., 2013. Single nucleotide polymorphisms of human STING can affect Innate immune response to cyclic dinucleotides. PLoS One 8(10):e77846.
ORDERING
Recombinant human STING
NEW!
Description
CHO expressed human STING (R232) protein
Cat. Code
rec-hsting
Unit Size
25 µg
Price
For price or distributor address,
please select your country
MOST POPULAR
Plasmocin™
Mycoplasma removal agent

More info
High quality ready-to-use selective antibiotics with purity levels exceeding 95%.