Literature

Follow us on

Follow us on

Ready-made psiRNA
Plasmids Expressing Functional shRNAs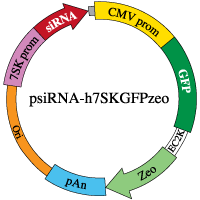 Ready-made psiRNA is a family of plasmids expressing a growing list of shRNAs which functionality has been described in the literature or validated in house. Ready-made psiRNA plasmids eliminate the need to design and clone several siRNA sequences before identifying an effective one. They express shRNAs that silence the expression of a target gene by >70%.
Ready-made psiRNAs are psiRNA-h7SKGFPzeo-derived plasmids. They feature the human 7SK RNA Pol III promoter that generates high amounts of short hairpin RNAs and the GFP::Zeo fusion gene which confers both reporter and antibiotic resistance activities. Therefore, ready-made psiRNAs are very useful to monitor transfection efficiency, standardize gene silencing efficiency and select clones that stably express a validated shRNA.

Ready-made psiRNA plasmids are available alone or in a kit.
Ready-made psiRNA
| | |
| --- | --- |
| TLR shRNAs | short hairpin RNAs that target Toll-Like Receptors genes |
| TLR-Related shRNAs | short hairpin RNAs that target genes encoding proteins involved in TLR signaling pathways |
| NLR shRNAs | short hairpin RNAs that target NOD-Like Receptor and NLR-related genes |
| RLR shRNAs | short hairpin RNAs that target the RIG-I-like receptor and RLR-related genes |
| CLR shRNAs | short hairpin RNAs that target various genes encoding receptors involved in pathogen recognition |
| CDS shRNAs | short hairpin RNAs that target the cytosolic dsDNA Sensor (CDS) and CDS-related genes |
| DAMPs shRNAs | short hairpin RNAs that target the damage associated molecular patterns (DAMPs) related genes |
| Autophagy-related shRNAs | short hairpin RNAs that target genes encoding proteins involved in autophagy |
| Inhibitors of Signaling shRNAs | short hairpin RNAs that target various inhibitors of signaling genes |
| Signaling effectors shRNAs | short hairpin RNAs that target genes encoding proteins involved in signaling |
| Cytokine & Related shRNAs | short hairpin RNAs that target cytokine production and signaling pathways genes |
| Remodeling shRNAs | short hairpin RNAs that target genes encoding proteins involved in chromatin-remodeling |
| Disease-related shRNAs | short hairpin RNAs that target genes encoding proteins involved in human diseases |
| Reporter shRNAs | short hairpin RNAs that target a variety of reporter genes |
| Miscellaneous shRNAs | short hairpin RNAs that target various genes |
| All InvivoGen's ORFs shRNA | short hairpin RNAs that target the late SV40 polyadenylation signal (polyA) |