Literature

Follow us on

Follow us on

RAW-Blue™ ISG Cells
RAW-Blue™ ISG cells were designed for the detection of bioactive murine type I IFNs in a physiologically relevant cell line.
RAW-Blue™ ISG cells were derived from the murine RAW 264.7 macrophage cell line by stable integration of an interferon regulatory factor (IRF)-inducible secreted embryonic alkaline phosphatase (SEAP) reporter construct.
The levels of IRF-induced SEAP in the cell culture supernatant are readily assessed with QUANTI-Blue™, a SEAP detection reagent.
RAW-Blue™ ISG cells are responsive to murine IFN-α and IFN-β but do not respond to their human counterparts.
They are also responsive to PRR ligands that trigger the IFN signaling pathway, such as transfected double-stranded nucleic acid.
Figures for this product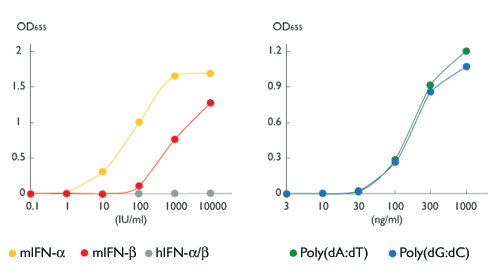 ORDERING
RAW-Blue™ ISG cells
Description
Mouse Macrophage IFN Reporter Cells
Cat. Code
raw-isg
Unit Size
3-7 x 10e6 cells
Price
For price or distributor address,
please select your country
Look for Similar Items by Category
MOST POPULAR
Plasmocin™
Mycoplasma removal agent

More info
High quality ready-to-use selective antibiotics with purity levels exceeding 95%.