Literature

Follow us on

Follow us on

pSELECT-zeo
SELECT-zeo plasmids offer all the features necessary to express a gene of interest at high levels in a large number of cell types. pSELECT-zeo plasmids contain two transcription units, the first drives the expression of the gene of interest and the second drives the expression of a Zeocin™ selectable marker. pSELECT-zeo contains a multiple cloning site (MCS) downstream of the composite promoter for convenient cloning of a gene of interest. pSELECT-zeo is also available with the LacZ reporter gene and can be used as control vector.
Specifications
- No transcriptional interference: the two expression cassettes are oriented in convergent directions
- Strong and ubiquitous expression of the transgene: EF1α/HTLV composite promoter
- Convenient cloning of a gene of interest with a Multiple Cloning Site
- Selectable with Zeocin™ in mammalian cells and E.coli
Details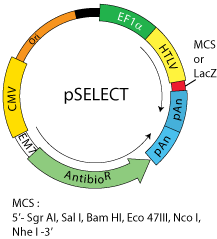 ORDERING
pSELECT-zeo-mcs
Cat. Code
psetz-mcs
Unit Size
20 µg
Price
For price or distributor address,
please select your country
MOST POPULAR
Plasmocin™
Mycoplasma removal agent

More info
High quality ready-to-use selective antibiotics with purity levels exceeding 95%.