Literature

Follow us on

Follow us on

pNiFty2-Luc
pNiFty2-Luc plasmid is composed of three key elements: an ELAM proximal promoter, five NF-κB repeated transcription factor binding sites (TFBS) and a Luc (Luciferase) reporter gene.
pNiFty2-Luc plasmid is selectable with Zeocin™ in both E. coli and mammalian cells, and can be used to generate stable clones.
Specifications
Transcription factor binding sites: NF-κB (5x)
Minimal Promoter: ELAM
Selection: Zeocin™
Reporter Gene: Luciferase
Contents
pNiFty2-Luc plasmid is provided as 20 µg lyophilized DNA with 4 pouches of Fast-Media® (2 TB and 2 Agar), containing Zeocin™.
Products are shipped at room temperature and should be stored at -20°C.
Description
Minimal promoter
The proximal promoters are shorter than 500 bp and contain transcription factor binding sites. Upon stimulation in 293 cells, their expression level remains undetectable. With the addition of repeated TFBS, the proximal promoters become inducible by the appropriate stimulus and drive the expression of the reporter gene.
ELAM promoter: the proximal promoter of the endothelial cell-leukocyte adhesion molecule (ELAM-1; E-selectin) gene contains three NF-κB sites and is truly NF-kB specific, as it lacks an AP1/CREB site found in the full-length promoter [1, 2].
Transcription factor binding sites (TFBS)
NF-kB binding site: Nuclear factor (NF)-κB is a "rapid-acting" primary transcription factor activated by a wide variety of PRRs. NF-κB is a protein complex that belongs to the Rel-homology domain-containing protein family. The prototypical NF-κB is composed of the p65(RelA) and p50 subunits [3]. NF-κB binds specific decameric DNA sequences (GGGRNNYYCC, R-purine Y=pyrimidine) and activates genes involved in the regulation of the innate and adaptative immune response.
Reporter Genes
Luc reporter gene: The firefly luciferase gene is a highly sensitive reporter gene and thus is ideal for detecting low-level gene expression. Luc activity can be quantified in cell extracts by using kits commercially available from other companies.
1. Schindler U., Baichwal VR., 1994. Three NF-kappa B binding sites in the human E-selectin gene required for maximal tumor necrosis factor alpha-induced expression. Mol Cell Biol. 14(9):5820-31.
2. Jensen LE. & Whitehead AS., 2003. ELAM-1/E-selectin promoter contains an inducible AP-1/CREB site and is not NFkB-specific. Biotechniques 35:54-58.
3. Kawai T. & Akira S., 2007. Signaling to NF-kappaB by Toll-like receptors. Trends Mol Med. 13(11):460-9.
Details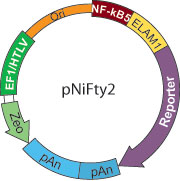 Citations
Recent articles using InvivoGen pNiFty2-Luc
2016

- Sci Rep., 6:20318. d
Human oral isolate Lactobacillus fermentum AGR1487 induces a pro-inflammatory response in germ-free rat colons.
Anderson RC, Ulluwishewa D, Young W1, Ryan LJ, Henderson G, Meijerink M, Maier E, Wells JM, Roy NC.


2014

- Appl Environ Microbiol., 80(2):730-40
Bifidobacterium bifidum PRL2010 modulates the host innate immune response.
Turroni F, Taverniti V, Ruas-Madiedo P, Duranti S, Guglielmetti S, Lugli GA, Gioiosa L, Palanza P, Margolles A, van Sinderen D, Ventura M
Free article

2014

- J Virol. , 88(10):5242-55.
Yeast virus-derived stimulator of the innate immune system augments the efficacy of virus vector-based immunotherapy.
Claudepierre MC, Hortelano J, Schaedler E, Kleinpeter P, Geist M, Remy-Ziller C, Brandely R, Tosch C, Laruelle L, Jawhari A, Menguy T, Marchand JB, Romby P, Schultz P, Hartmann G, Rooke R, Bonnefoy JY, Preville X, Rittner K.
Free article
ORDERING
pNiFty2-Luc
Description
pNiFty2 : NF-κB(5x) - ELAM - ZeoR - Luc
Cat. Code
pnifty2-luc
Unit Size
20 µg
Price
For price or distributor address,
please select your country
MOST POPULAR
Plasmocin™
Mycoplasma removal agent

More info
High quality ready-to-use selective antibiotics with purity levels exceeding 95%.