Literature

Follow us on

Follow us on

pCpGfree-siRNA
CpG-free plasmid for siRNA production in vivo

pCpGfree-siRNA is a plasmid that combines the backbone of the pCpGfree plasmids with the siRNA expression cassette of the psiRNA plasmids. It is designed for long lasting expression of shRNAs in vivo as the plasmid does not induce inflammatory responses and gene silencing by methylation in vertebrate hosts.
Specifications
CpG-free plasmid backbone
Two cloning options: Acc 65I / Hind III or Bbs I / Bbs I
Allows white and blue selection
Selectable in E. coli with Zeocin™
Provided with the psiRNA™ tools:
• disk of lyophilized E. coli GT115
• Sequencing primers (OL559-OLSI3')
• E. coli Fast-Media® Zeo XGal
This product is covered by a Limited Use License (See Terms and Conditions).
Contents
pCpGfree-siRNA plasmid is provided in a kit that includes the following components:

- 50 μg pCpGfree-siRNA plasmid
- 20 μg control pCpGfree-siRNA plasmid expressing a scramble sequence
- 1 disk of lyophilized E. coli GT115 (genotype: F- mcrA Δ(mrr-hsdRMS-mcrBC) Φ80lacZM15 ΔlacX74 recA1 endA1 Δdcm uidA::pir-116 ΔsbcC-sbcD)
- 10 μg of OL559 primer (forward) and 10 μg of OLSI3' primer (reverse)
- 4 pouches of E. coli Fast-Media® Zeo X-Gal
Description
CpG-free Plasmid Backbone
All the elements required for replication and selection of the plasmid in E. coli and gene expression in mammalian cells are completely devoid of CpG dinucleotides.

Enhanced RNA Polymerase III Promoter
pCpGfree-siRNA plasmid features the human 7SK promoter, in which all CpG dinucleotides have been removed. The activity of this RNA Pol III promoter is augmented by the addition of the enhancer of the CMV immediate-early promoter, a Pol II enhancer. The enhancer has been modified to remove all CpGs.

White/blue selection: pCpGfree-siRNA plasmids exploit the white/blue selection system to facilitate the screening of recombinant clones. They feature an EM7-LacZ α-peptide cassette between the cloning sites to allow the easy discrimination between blue parental and white recombinant clones.
Cloning options: pCpGfree-siRNA offers two cloning strategies for the cloning of an shRNA insert, either Acc 65I / Hind III or Bbs I / BbsI. Bbs I, an unusual restriction enzyme that generates asymmetric cohesive overhangs that are not compatible with each other to eliminate the risk of self-ligation of the vector.
Details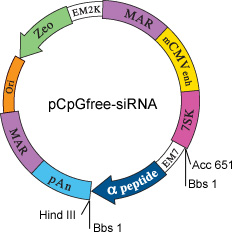 ORDERING
pCpGfree-siRNA
Description
CpG-free plasmid designed for the production of siRNAs in vivo
Cat. Code
kcpgf-sirna
Unit Size
1 kit
Price
For price or distributor address,
please select your country
Look for Similar Items by Category
MOST POPULAR
Plasmocin™
Mycoplasma removal agent

More info
High quality ready-to-use selective antibiotics with purity levels exceeding 95%.