Literature

InvivoGen Insight Newsletters
| | |
| --- | --- |
| Subscribe | Please, register first to receive paper newsletters |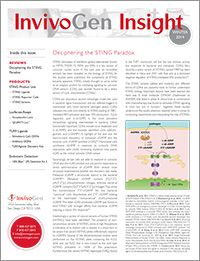 - Review: Deciphering the STING Paradox
STING (stimulator of interferon genes), alternatively known as MPYS, TMEM173, MITA and ERIS, is a key sensor of cytosolic nucleic acids. In the past year, an incredible amount has been revealed on the biology of STING. As the studies were published, the complexity of STING became apparent. STING, initially thought to serve solely as an adaptor protein for mediating signaling by cytosolic DNA sensors (CDS), was recently found to be a direct sensor of cyclic dinucleotides (CDNs)....
MOST POPULAR
Plasmocin™
Mycoplasma removal agent

More info
High quality ready-to-use selective antibiotics with purity levels exceeding 95%.