Literature

Follow us on

Follow us on

InvivoGen Insight Newsletters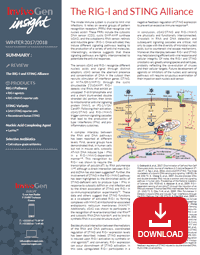 Winter 2017-2018:
The RIG-I and STING Alliance
REVIEW:
The RIG-I and STING Alliance
The innate immune system is crucial to limit viral infections. It relies on several groups of pattern recognition receptors (PRRs) that recognize viral nucleic acids1. These PRRs include the cytosolic DNA sensor (CDS), cyclic GMP-AMP synthase (cGAS), and the cytoplasmic RNA sensor, retinoic acid inducible gene I (RIG-I). Once activated, they induce different signaling pathways leading to the production of a variety of antiviral molecules. Interestingly, evidence suggests that these signaling pathways are tightly interconnected to potentiate the antiviral responses.read more
Previous Issues
Download our previous Newsletters (Acrobat required)
Load more Issues
Hide
MOST POPULAR
Plasmocin™
Mycoplasma removal agent

More info
High quality ready-to-use selective antibiotics with purity levels exceeding 95%.