Literature

Follow us on

Follow us on

InvivoGen Insight Newsletters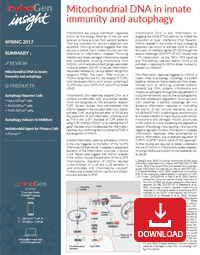 SPRING 2017:
AUTOPHAGY
REVIEW:
Mitochondrial DNA in innate immunity and autophagy
Mitochondria are unique mammalian organelles known as the energy factories of the cell and believed to have evolved from aerobic bacteria. They are important for cellular metabolism and apoptosis. Growing evidence suggests that they also play a central role in innate immunity and may contribute to inflammatory diseases...read more
Previous Issues
Download our previous Newsletters (Acrobat required)
Load more Issues
Hide
MOST POPULAR
Plasmocin™
Mycoplasma removal agent

More info
High quality ready-to-use selective antibiotics with purity levels exceeding 95%.