Literature

InvivoGen Insight Newsletters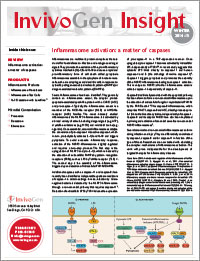 - Review: Inflammasome activation: a matter of caspases
Inflammasomes are multimeric protein complexes that are crucial for host defense to infection and endogenous danger signals. They promote the secretion of the pro-inflammatory cytokines interleukin (IL)-1β and IL-18 and cause a rapid and pro-inflammatory form of cell death called pyroptosis...
*Please note a misprint in our Winter 2014/15 newsletter concerning the product Plasmocin™ Treatment. The correct quantity is 2 ml (2 x 1 ml), and not "10 ml", as originally printed.
MOST POPULAR
Plasmocin™
Mycoplasma removal agent

More info
High quality ready-to-use selective antibiotics with purity levels exceeding 95%.