Literature

Follow us on

Follow us on

HEK-Blue™ mTLR3
HEK-Blue™-mTLR3 cells were obtained by co-transfection of the murine TLR3 gene and an inducible SEAP (secreted embryonic alkaline phosphatase) reporter gene into HEK293 cells.
The SEAP gene is placed under the control of the IFN-β minimal promoter fused to five NF-κB and AP-1-binding sites. Stimulation with a TLR3 ligand activates NF-κB and AP-1 which induce the production of SEAP.
Levels of SEAP can be easily determined with HEK-Blue™ Detection, a cell culture medium that allows for real-time detection of SEAP.
The parental cell line of HEK-Blue™ mTLR3 cells is HEK-Blue™ Null1-k cells.
Figures for this product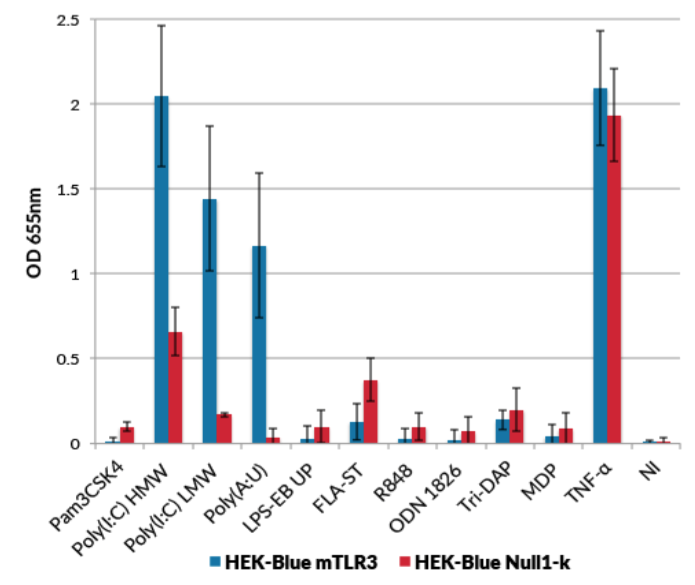 ORDERING
HEK-Blue™ mTLR3 cells
Description
murine TLR3-expressing HEK 293 cells
Cat. Code
hkb-mtlr3
Unit Size
3-7 x 10e6 cells
Price
For price or distributor address,
please select your country
MOST POPULAR
Plasmocin™
Mycoplasma removal agent

More info
High quality ready-to-use selective antibiotics with purity levels exceeding 95%.