Detection of flagellin-induced IL-1β using HEK-Blue™KD-TLR5 cells.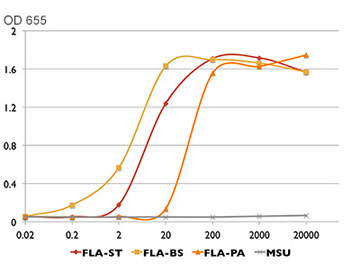 THP1-NLRC4 and HEK-Blue™ KD-TLR5 cells were co-cultured and stimulated with increasing concentrations of ultrapure flagellin from S. typhimurium (FLA-ST UP), B. subtilis (FLA-BS UP) or P. aeruginosa (FLA-PA UP), or monosodium urate (MSU, an NLRP3 inflammasome inducer which requires prior priming of THP-1 cells).
After 24h incubation, IL-1β-induced NF-κB activation was assessed by measuring the levels of SEAP using the QUANTI-Blue™ assay. When cultured alone, HEK-Blue™ KD-TLR5 cells do not respond to flagellin.