Literature

Follow us on

Follow us on

C3H/TLR4mut MEF Cells
TLR4-deficient murine embryonic fibroblasts
C3H/TLR4mut cells are TLR4-deficient murine embryonic fibroblasts that stably express an NF-κB-inducible SEAP reporter gene. C3H/TLR4mut MEFs express high levels of TLR2 and low levels of TLR3 and TLR5. In C3H/TLR4mut MEFs, TLR2, TLR3, or TLR5 agonists induces the activation of NF-κB and the subsequent production of SEAP which can be detected using QUANTI-Blue™.
As C3H/TLR4mut cells are TLR4-deficient, they are not activated by TLR4 agonists. Thus C3H/TLR4mut MEFs can used with the TLR4-responsive C3H/WT MEFs to determine whether a compound is a specific TLR4 agonist or to assess the purity of LPS by detecting the presence of contaminants that stimulate TLR2.
Figures for this product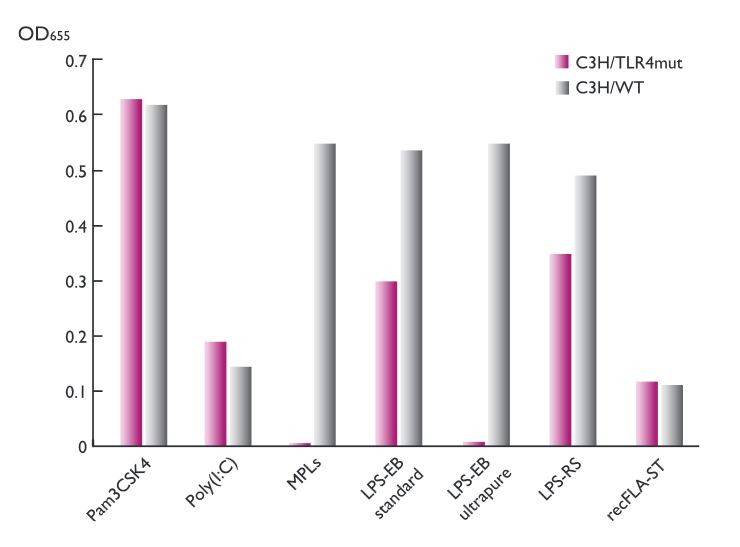 ORDERING
C3H/TLR4mut MEF
DISCONTINUED
Description
TLR4-deficient murine embryonic fibroblasts
Cat. Code
mef-c3h4m
Unit Size
3-7 x 10e6 cells
Price
For price or distributor address,
please select your country
Look for Similar Items by Category
MOST POPULAR
Plasmocin™
Mycoplasma removal agent

More info
High quality ready-to-use selective antibiotics with purity levels exceeding 95%.