Literature

Follow us on

Follow us on

Beta-glucan peptide (BGP)
Beta-glucan from Trametes versicolor - β(1➝4,1➝3, 1➝6)-glucan
Beta-glucan peptide (BGP) is a high molecular weight (~100 kDa) polysaccharide extracted from the fungus Trametes versicolor.
BGP consists of a highly ramified glucan portion, comprising a beta 1-4 main chain and beta 1-3 side chain, with beta 1-6 side chains covalently linked to a polypeptide portion rich in aspartic, glutamic and other amino acids.
BGP activates murine macrophages and HEK-Blue™ Dectin-1 cells. Detection of β-glucans by Dectin-1 receptor leads to the CARD9-dependent activation of NF-κB and MAP kinases.
Specifications
Specificity: Dectin-1 ligand
Synonym: BGP
Solubility: Water (1 mg/ml)
Partial structure: β(1➝4,1➝3, 1➝6)-glucan


Contents
- 50 mg beta-glucan peptide provided as a lyophilized powder
Beta-glucan peptide is shipped at room temperature.
Store at room temperature.
Details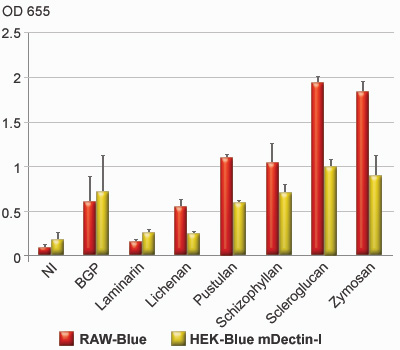 Responses to β-glucans.
RAW-Blue™ cells and HEK-Blue™ mDectin-1 cells, which express the mouse dectin-1a gene, were stimulated with 100 µg/ml of various β-glucans.
After 24h incubation, NF-κB activation was assessed by measuring the levels of SEAP (secreted embryonic alkaline phosphatase) using the QUANTI-Blue™ assay.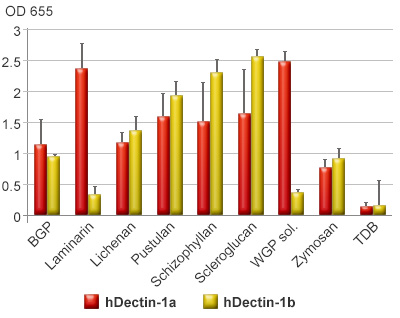 Stimulatory activity of Dectin-1 ligands:
HEK-Blue™ hDectin-1a and HEK-Blue™ hDectin-1b cells were stimulated with 1 µg/ml or 10 µg/ml Dectin-1 ligands, respectively, and 10 µg/ml TDB.
After 24h incubation, Dectin-1-induced NF-κB activation was assessed by measuring the levels of SEAP using the QUANTI-Blue™ assay.
Citations
Recent articles using InvivoGen Beta-glucan peptide (BGP)
2018

- Cell., 172(1-2):147-161.
Modulation of Myelopoiesis Progenitors Is an Integral Component of Trained Immunity.
Mitroulis I. et al.


2016

- Exp Gerontol., S0531-5565(16)30057-2.
Reduced levels of cytosolic DNA sensor AIM2 are associated with impaired cytokine responses in healthy elderly.
Wang Q, Westra J, van der Geest KS, Moser J, Bijzet J, Kuiper T, Lorencetti PG, Joosten LA, Netea MG, Heeringa P, Brouwer E, Boots AH.

ORDERING
Beta-glucan peptide
Description
Dectin-1 Agonist - Beta-glucan from Trametes versicolor
Cat. Code
tlrl-bgp
Unit Size
50 mg
Price
For price or distributor address,
please select your country
MOST POPULAR
Plasmocin™
Mycoplasma removal agent

More info
High quality ready-to-use selective antibiotics with purity levels exceeding 95%.