Literature

Follow us on

Follow us on

Anti-FLA-ST
Detection and neutralization antibody to flagellin from S. typhimurium
Anti-FLA-ST is a mouse monoclonal antibody specific against flagellin from Salmonella typhimurium.
The antibody has been screened for the ability to neutralize FLA-ST-induced TLR5 activity. Anti-FLA-ST can be used for detection by ELISA and neutralization of purified or recombinant S. typhimurium flagellin. The utility of this antibody for other applications has not been determined.
Specifications
Clonality: Monoclonal antibody
Clone: 18E11
Isotype: Mouse IgG1
Formulation: 0.2 µm filtered solution in 68 mM phosphate buffer with 91 mM glycine, 5% w/v saccharose and stabilizing agents
Application: Neutralization of FLA-ST-induced TLR5 activity, detection by ELISA
Specificity: flagellin from Salmonella typhimurium
Contents
- 100 µg purified anti-FLA-ST provided azide-free and lyophilized
Product is shipped at room temperature.
Store lyophilized antibody at -20°C. Product is stable for 6 months.
Details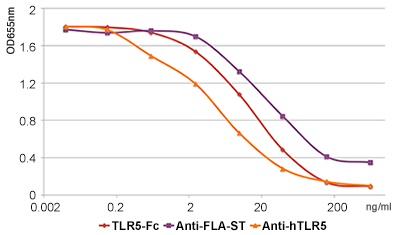 Neutralization activity of hTLR5-Fc:
Increasing concentrations of hTLR5-Fc, anti-FLA-ST (antibody against S. typhimurium flagellin) or anti-hTLR5 (antibody against human TLR5) were pre-incubated with 5 µg FLA-ST (S. typhimurium flagellin) prior to the addition of HEK-Blue™ hTLR5 cells, which express the human TLR5 gene and an NF-kB-inducible SEAP gene.
After 24h incubation, TLR5-induced NF-kB activation was assessed by measuring the levels of SEAP using the QUANTI-Blue™ assay.
ORDERING
Anti-FLA-ST
Description
Detection and Neutralizing antibody to flagellin from S. typhimurium
Cat. Code
mabg-flast
Unit Size
100 µg
Price
For price or distributor address,
please select your country
MOST POPULAR
Plasmocin™
Mycoplasma removal agent

More info
High quality ready-to-use selective antibiotics with purity levels exceeding 95%.